Old blog article: 20 years of Computing
Photo by Lorenzo Herrera on Unsplash
This article appeared on my Italian blog way back in 2007. It tells the story of my "computer prehistory," that is, the beginnings of my passion and "career" in the field of computer science. Almost 16 years have passed since I wrote this article, and yet I still get chills thinking about the emotions that certain discoveries aroused in me. Here is the article, dated December, 19 2007:
The fateful day has arrived: today I turn 28 years old and celebrate the 20th year of owning a personal computer. Precisely on December 19th, 1987, I received a wonderful Commodore 64 as a gift, equipped with a recorder (not the famous Datassette, but a compatible one that often worked better than the original), two non-microswitch joysticks, and the famous "first cassette". What was it? It was a strictly duplicated audio cassette that one of the two Commodore stores in the city gave to those who went to buy a C64. It contained old games (the first one on side A: Pole Position) that were very popular at that time, and we all saw that first cassette as a symbol of owning a computer.
CBM 64c
I did everything with it and tried to avoid letting it steal my childhood. However, my interest was so great that I collected countless cassettes, a beautiful floppy drive 1541-II (which, even today, I believe was a jewel of aesthetics), and so many games that would envy collectors. My favorite? Probably the legendary Zak McKracken which, almost twenty years later, I still haven't finished. Zzap was a must-read, and I fantasized seeing "The Games Machine" or TGM on newsstands, dedicated to expensive and unattainable 16-bit computers. The hidden dream? A Commodore Amiga, just like my cousin's.
Amiga 500
After years of C64, my parents promised to give me an Amiga 500 if I did well in middle school (it was 1991). The promotion came, and with it, the Amiga. It was an Amiga 500 1.3, nothing special, but it was beautiful because... it was mine! :-) Unfortunately, I sold the C64 and bought a dot-matrix printer. It's still in use at a relative's house. Over time, I took many expansions: almost immediately, 512KB of additional RAM because I wanted to play "The Secret of Monkey Island," probably the most beautiful graphic adventure of all time. Then an external module with 4MB that allowed me to create many RAM disks and put my floppies on them, to avoid the wild swapping that was so popular at that time. I also took an external floppy and an "Action Replay" cartridge, but I never used it enough. Years passed, and I had the opportunity to try an IBM PS/1 at a friend's house. Although I wasn't impressed, I immediately understood that the future would be on a PC. The Amiga was mostly a gaming machine (in my perspective at that time), and I was growing up. I also remembered that my uncle had a beautiful 386 PC in the office, and it looked really professional. In short, I wanted a "professional" computer too.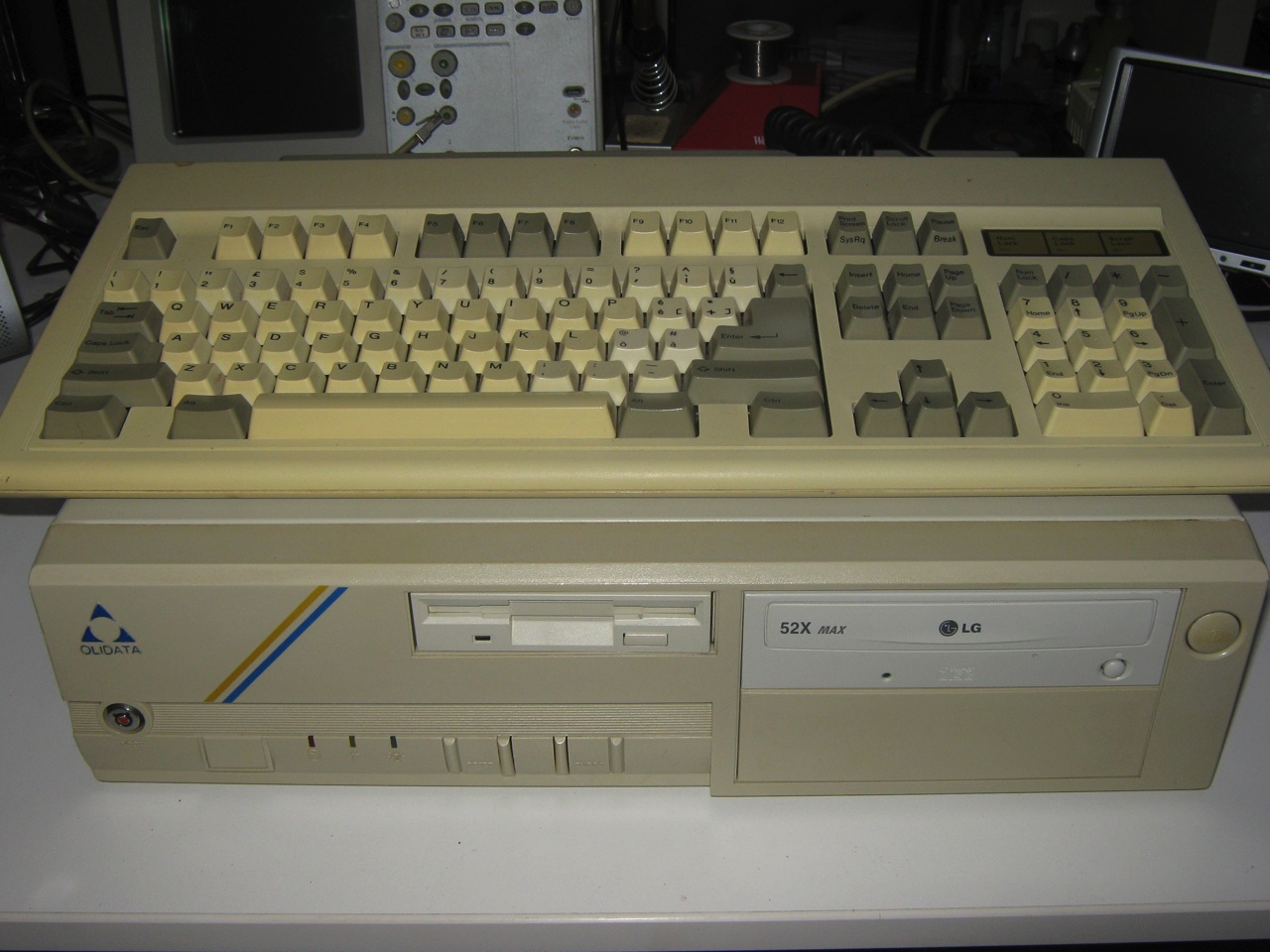 Olidata 486
It was in September 1993 that my first PC arrived: an Olidata 486 DLC at 33 Mhz. I think it had 4MB of RAM and 120MB of disk, but I wouldn't swear to it, it's been a long time... The processor was a Cyrix and was famous for having a bug for which you had to disable the cache to run some programs in protected mode, penalizing performance. Obviously, it was one of the few 486s without a math coprocessor (which I emulated, with terrible results, via software).
Compaq Contura Aero
A year later, my first laptop arrived: a Compaq Contura Aero 4/25, a really small and lightweight sub-notebook. It was fantastic, I loved it: its gray-tone LCD screen was almost illegible with so much light, its trackball was inconvenient, and it tended to break the screen hinge, but... it was my laptop! It was a 486SX/25, had 4MB of RAM and 85MB of hard disk. The novelty was that it didn't have an internal floppy but an external one that could be connected via PCMCIA. I wonder if it still works today, maybe on my modern laptop! It was around that time that I became interested in networks. It was the era of FidoNet, and I connected once a day (sometimes twice) to download mail and messages. The calls, strictly long-distance due to the absence of BBS in my city, were always quick, so I didn't have a big impact on my bills. I became a national moderator of VREALITY.ITA and a co-sysop of a local BBS. I was only 15 years old, and none of my friends understood exactly what I was doing and avoided asking for information not to be faced with an incomprehensible monologue, but... I liked it, and that was enough for me.
I openly (almost) attacked Usenet because, in my opinion, it would have induced many incompetent people to participate and, in return, greatly worsened the quality of the conversations. I thought that the Internet was too "dispersive," suitable for general use but not very technical. In part, I was right, the dispersiveness is there, but we have still found a way to have our space and avoid too strong "overflows." However, the fact remains that today, the Internet is accessible to everyone, and the mother of idiots is always pregnant. The conclusions are obvious...
InfoMagic Linux Developer's Resource
I won't go into the description of all the hardware that has passed through my hands in the following years; it would be impossible and too boring. Perhaps the noteworthy moment was an unspecified day in September 1996, the day I saw an advertisement somewhere that for 10,000 lire, they would send you a box set with six CDs directly to your home, including a "free" and "open-source" operating system. I ordered it, curious. A package arrived containing an archaic Red Hat and a Debian. I did some testing, but I decided it wasn't for me. I still had a way to go (and my Internet connection was still too slow).
I decided to try GNU/Linux again in 1998, before enrolling in university. I put Debian inside, and this time, I was really hooked... the rest is recent history, and I don't feel like telling it. It should be quite clear from what you read on these pages.
I've seen things change, I do things that I couldn't even imagine five years ago, and unfortunately, I don't do some things that would have seemed obvious a few years ago. Anyway... happy birthday to me! :-)
Written and posted by: Stefano Marinelli
Related Posts